I have to apologize… It has been so long since we posted any pictures! We had a few misadventures such as our camera getting run over, so hopefully you will forgive us.
Colm is growing… and growing… There are fewer and fewer places that are safe to put stuff out of his reach. He's now tall enough to reach our kitchen counters. Maybe we've been feeding him too much. :)
Yum! Blueberry pancakes.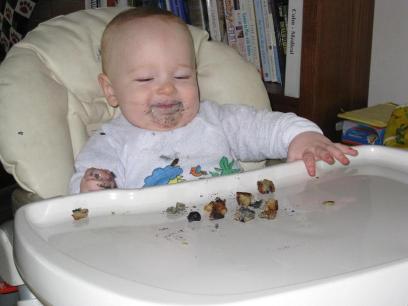 He's learning to operate a spoon all by himself.
Colm loves to play. Especially the piano.
Sometimes the only way you can get him to stay still is to hang him from his toes.
---
The big excitement of the last few months was of course Colm's first birthday! Granddad and Grandma Kimble came out from Colorado to help us celebrate. We had a joint birthday party since my 35th birthday was just 5 days from Colm's first.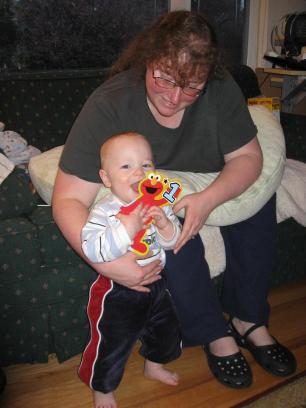 Anticipating the guests.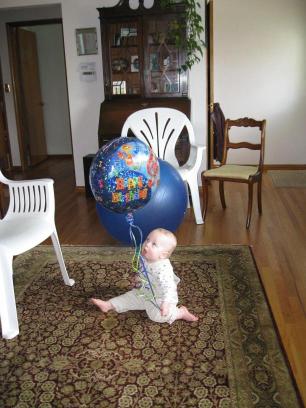 Colm posing very nicely with the birthday cakes.
Colm posing very nicely after putting his heel into his birthday cake.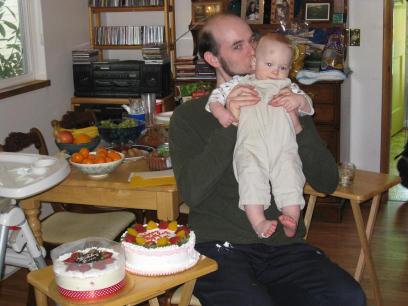 Yum!
Make a wish!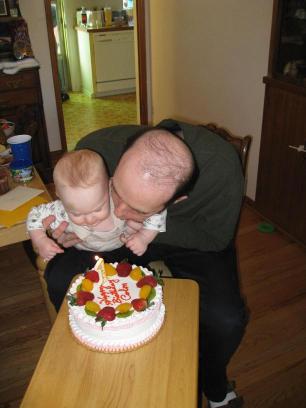 Of course we had to make sure Colm got plenty of sugar.
Sugar crash!
Grandma, Granddad, and friends Heidi, Garett, and Chase.
Later in the afternoon we celebrated my birthday too!
And there was more time for playing with Grandma and Granddad.
We also have a few pictures from a birthday celebration with our parents' group.
---
We have been using a few words of sign language with Colm since last year, but it's only in the last couple months that he's started to sign back at us. He knows "milk", "more", "eat", and "change", but by far his favorite sign is "bath". He asks for a bath almost every time he gets a diaper change.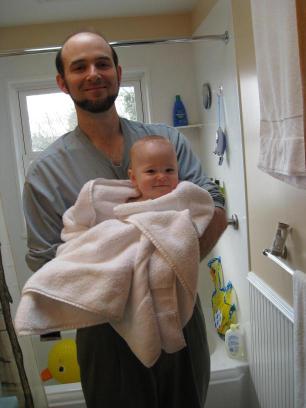 With the warmer weather we are enjoying watching Colm explore The Big Out.
You may recognize these daffodils from the header of this blog. They were blooming when Colm was born.
There are lots of other activities to keep us busy, like playing the musical frog and cricket—gifts from Grandma Kimble.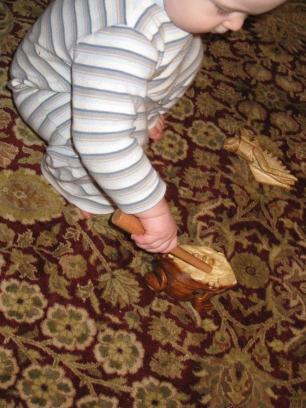 Creating Mother's Day cards for my Grandmas.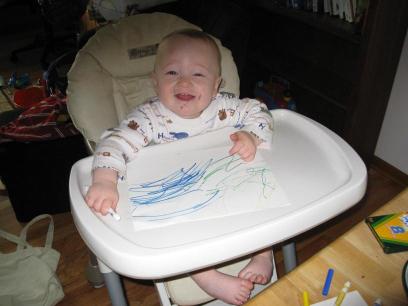 Playing with my food.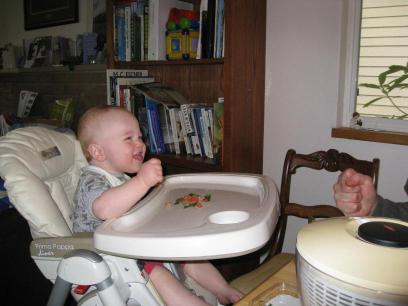 Watching the neighborhood go by with my buddy.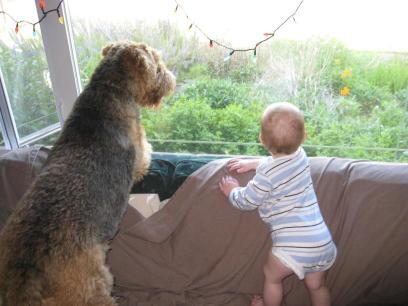 Reading with Mama.
Sitting in my new wagon.
And playing with Daddy.
And so to bed. Good night!